Proplan Industrial exhibits at one of the biggest international food fair in Asia – Thaifex – Anuga Asia 2022. We showcase at Impact Hall 6, Booth 6-I44, Fine Foods Zone.
During the pandemic, we have developed new and exciting products that fit the new needs of the market's new normal. We focus on plant-based vegan products, contributing to the global movement to a healthier lifestyle and a more responsible food choices that affect our natural environment. Our new products are all shelf-stable, which eliminates the need for cooling systems that make up 10% of the modern world's carbon emissions[1].
Thaifex – Anuga Asia 2022 features the best of Thailand food scene's innovation and future of food. This year's expo includes a newly created segment: THAIFEX – Anuga Future Food Market. This segment is made up of exhibits that feature potentially revolutionary products and services that address buyers' needs for ground-breaking innovations that will influence and positively impact this fast-growing global industry.
See you all at Impact, Muang Thong Thani, Bangkok Thailand, from 24-28 May 2022!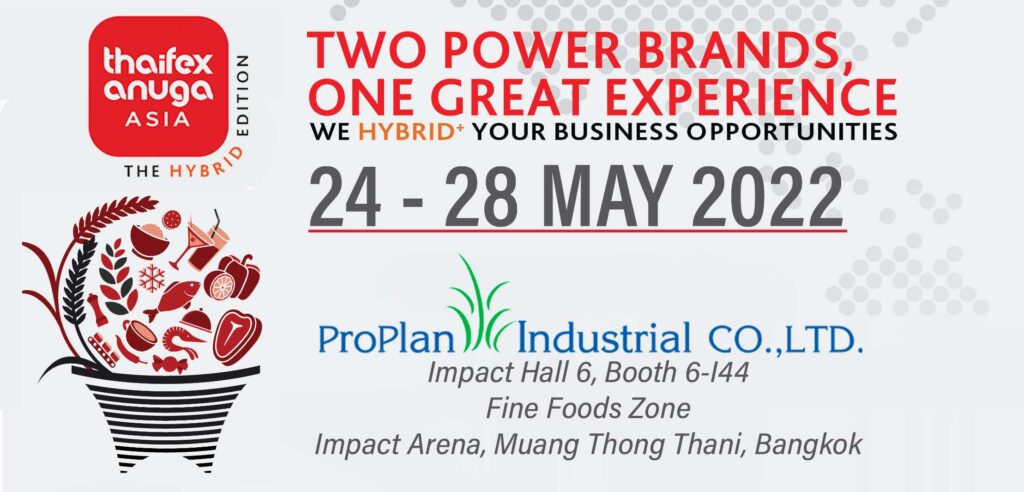 5 สูตรหมักหมูนุ่ม ทำกินเองได้ที่บ้าน
5 สูตรหมักหมูนุ่ม ทำกินเองได้ที่บ้าน เชื่อว่าใคร ๆ ก็ชอบกินหมูกระทะกันทั้งนั้น แต่จะทานให้อร่อยก็ต้องหมักหมูกันก่อน ใครที่ยังหมักหมูไม่เป็น เชฟอาร์ตขอแจก 5 สูตรหมูหมักนุ่ม ที่ใคร ๆ ก็สามารถทำกินเองได้ที่บ้าน รับรองว่าอร่อย นุ่มลิ้น ไม่แพ้ไปกินที่ร้าน และถ้าหากนำมาจิ้มกับน้ำจิ้มสุกี้สูตรกวางตุ้งของเชฟอาร์ตด้วยแล้วล่ะก็ จะเพิ่มความ "แซ่บซี๊ดดดดด จี๊ดถึงใจ" อย่างแน่นอน 1.หมูนุ่ม สูตรเกาหลี วัตถุดิบ  …